Lewis Hamilton's first day behind the wheel of his Mercedes resulted in the 2008 world champion crashing into a tyre barrier due to rear brake pressure.
After 15 laps, the 28-year-old locked up at the turn-six hairpin at 170mph and ploughed through a wide expanse of gravel and and slammed into the tyres.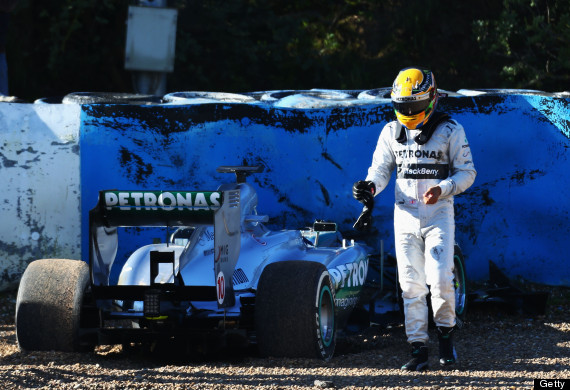 Hamilton emerges after the crash
The British driver, who moved from McLaren in the winter, emerged unscathed and the car was soon craned on to the back of a flatbed truck before being taken back to the garage.
A Mercedes team spokesperson said: "The front brakes enabled him to slow the car but he couldn't avoid the barrier.
"There is obvious damage to the front wing and nose; we are checking the car over now. Lewis himself is fine."
Yesterday Hamilton's teammate Nico Rosberg completed only 14 laps on Tuesday at the pre-season test at the Circuito de Jerez. after an electrical fault led to a small, short fire.